Home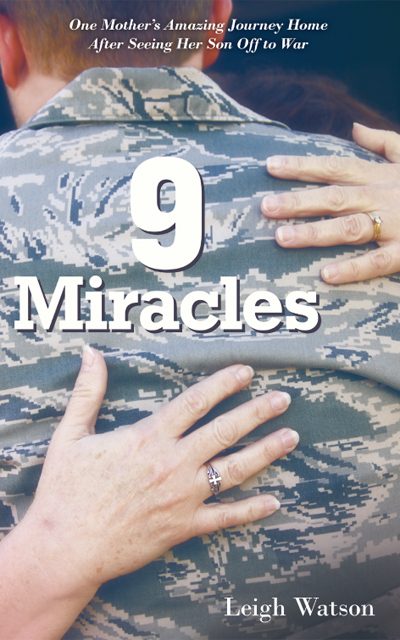 Welcome to my website!
I'm Leigh Watson, and I hope you enjoy my book, 9 Miracles: One Mother's Amazing Journey Home after Seeing Her Son off to War. This is the true story about the extraordinary events and incredible people I encountered on MY way, to and from, seeing my son off to Iraq. It's not my son's story - it's MY story. :)
#1 happened on my way TO Florida, the other 8 things/people happened on my way HOME. Miracle #9 in particular will KNOCK YOUR SOCKS OFF - - but you CAN'T look ahead, you HAVE to read it in order WITH the Conclusion, to get the full context!
And yes, that is really MY hands hugging MY son! :) In fact, see my mesquite thorn scar at the base of my hand? At the time, I hated that it scarred so, but now at book signings, I can point to it and say, "See? There's my scar!" HA!
This isn't a military book, nor a Mama's book. This inspirational book is about hope and encouragement and the realization that God cares and we are never alone when we are going through our darkest hour. HE will provide the strength you need when you have none left on your own.
As the Chapters unfold, together with the Conclusion, the life lessons can be applied to ANY age and ANY life's difficult circumstances. How God's grace is overflowing and unlimited.
It never ceases to amaze me how this book touches people's hearts in so many different ways. Some have written me to say how it's changed their life and now they see things from a different perspective. Others have written to say they feel this book was written "JUST FOR THEM" because of what they were going through at that time in their own life. Someone else - perhaps Miracle #1 especially touched their heart, another - #9, or yet even someone else - #3 - it's NEVER the same for every single person. It's always exciting to see how 9 Miracles affects people differently and which Miracle resonated most with them. God is so good!
Through the Holy Spirit, it touches each person where and how they need to be touched. It's like filling a bottle with rocks - it looks full but then you add water and it goes into all the little nooks and crannies and fills it. The Holy Spirit searches out the little nooks and crannies in our hearts and allows 9 Miracles to speak to you how and when you need it. It is ALL to God's glory and none that of myself. This is God's book and it is God's message. Praise the Lord!  
I hope you enjoy it. It was written with love. :)
Before you exit, be sure to click on the other buttons (pages). Some pretty cool stuff and things. Especially make sure you read the fabulous reviews that "9 Miracles" has received! WOW!  I am so humbled. Please feel free to 'share' these reviews with everyone you know! We need this to spread like a pillowcase of feathers in the wind! This inspirational book needs to be in every hospital gift shop and every airport gift shop!
AND - because you just never know who knows who - if this touches your heart and somehow you can help make a connection, and can get this stocked someplace, please do. We need this to get out where EVERYONE is talking about it. Jesus will love you for it and so will I.  :)
NOW ON TWITTER! FOLLOW ME @9MiraclesWatson
 ALSO ON GOODREADS!!   FOLLOW ME ON GOODREADS.COM! Some GREAT blogging posts! :)
About my latest book, 9 Miracles: One Mother's Amazing Journey Home after Seeing Her Son off to War
When Leigh's husband is unable to accompany her to see their Air Force son, Luke, off to Iraq, Leigh mentally prepares herself to make the trip alone, knowing she will have to be strong for Luke's sake.
Along the way, she encounters extraordinary people and incredible circumstances that could only be defined as heaven-sent. Rejoice, how as one exits - another appears, carrying her on the wings of mercy all the way home.
Join us now on this amazing journey as you witness the grace of God's loving hand upon a mother's aching heart. Discover to what lengths God will reach, proving the depth of His love and concern. Rest in the knowledge that HE will provide the strength you need to get through even the most difficult day.
God is willing to work a miracle in your life today, if you will only trust Him.
Visitors: